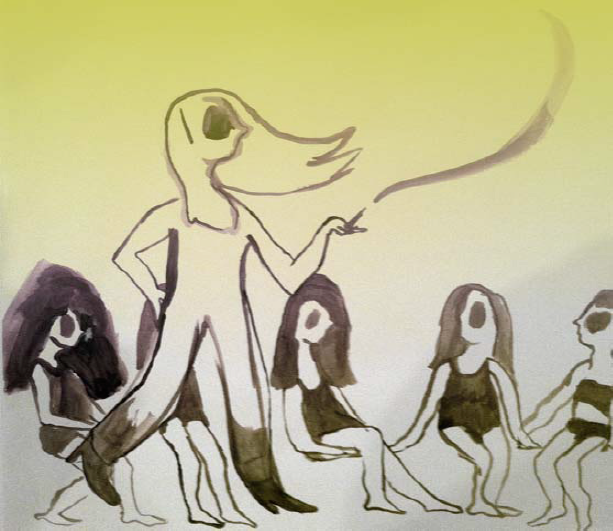 Description: Dead farm cat on a country road in Iowa. His friend the huge rooster stands over his smashed white body. The rooster is so huge that cars have to veer out to avoid him. Over the cat's body, the rooster puts six different protective shadows. The gnashing of teeth is love in narrow space. Stunned passivity, like being assisted by the message on a headstone. A thirteen-year-old girl is wearing a rainbow sweater and a jeans skirt. Her mother cries when she picks her up in the parking lot:
"you look so grown up!?" She doesn't know what to feel yet. A measure of energy built around another measure of energy. What it is to be wise towards those you love.
Instructions: Walk barefoot in each room. Create a neighborhood of pianists born in 1927, and make sure their music secures the earth and its inhabitants. Bolt. Lift your hands so that your palms are facing your face. Let the wind get in the car: this is what a body is. Pretend that you are in a stand of pines, and guard that understanding of gravity. Be felt in your body, forego violence in all forms, sing, help others. Curtail psychic fruiting and hold a leaf over an ant while it's raining.
Remember: How rare it is to tilt into a single, continuous, endless path. Stillness of late afternoon; other people's names.
To see more from Blueberry Morningsnow and Aleta Lanier, click here to purchase jubilat 22.