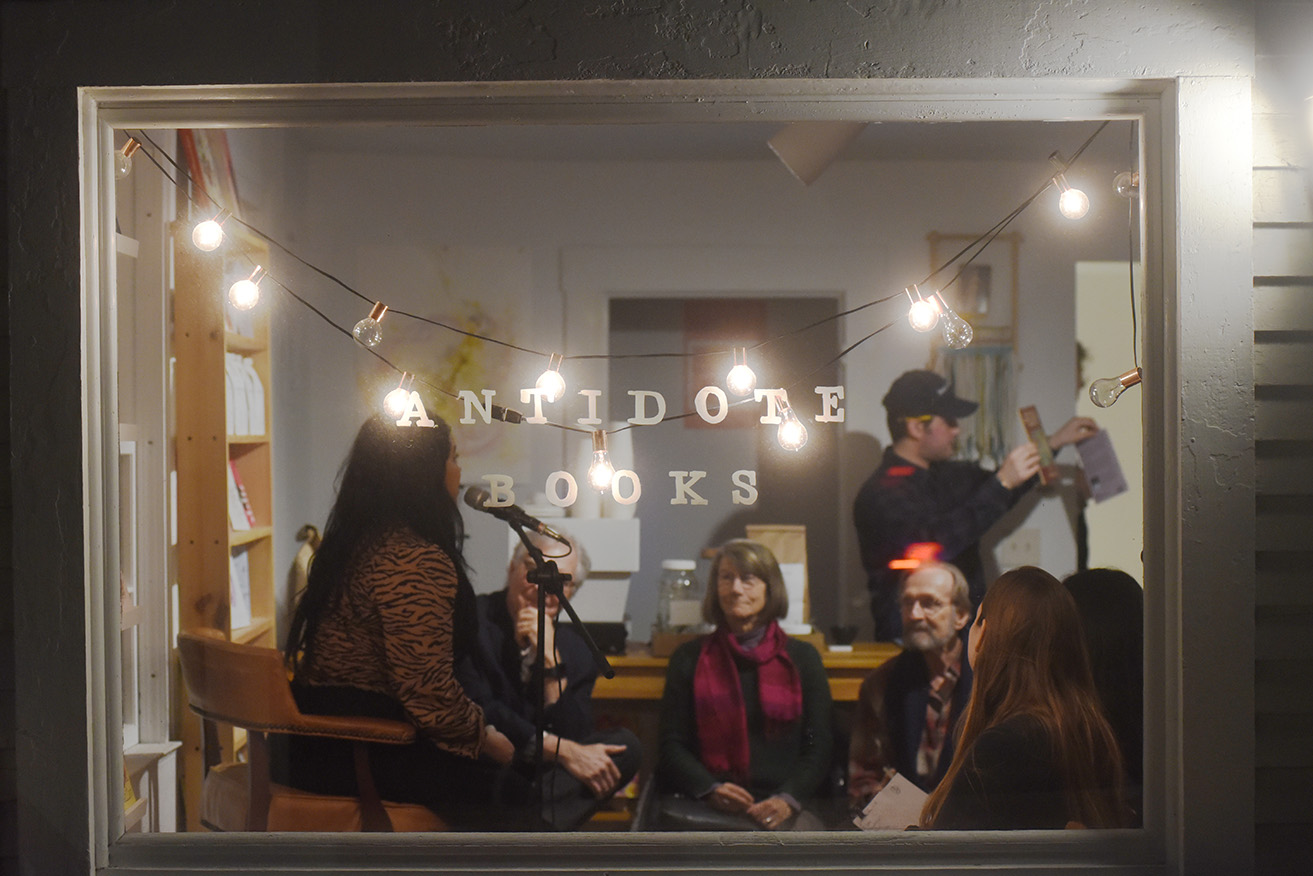 "There's something interesting about not knowing, being naïve and going into the space of starting something new," says Ruth Rodriguez.

In summer 2017, Ruth and her husband Jeremy Sowell opened Antidote Books in Putney, Vermont. Neither had owned a brick-and-mortar bookstore before, but they had very specific ideas for what they wanted it to become. Many of those ideas were inspired by their participation in poetry readings and literary events in their hometown of Houston, Texas.
"I could never have anticipated how grateful and honored I am to be able to create a space for books, and especially for poetry and readings," says Ruth. "This is a wildly indulgent way to be in the world."

Transforming the space in a circa-1835 Greek Revival building—initially a parsonage for a church and later the town post office—was a monthslong effort. Ruth and Jeremy tackled most of the work on their own with the help of Ruth's father, crafting everything from the bookshelves to the sign out front. This allowed them to get the shop as close as possible to how they imagined it, balancing literature-filled nooks and corners to get comfortably lost in with a welcoming, open space for the readings they host throughout the year.

Besides books, they also feature the work of a handful of artists such as poet Paige Taggart's Mactaggart Jewelry and Erika Duran Scrocca's Eradura Hand Embroidered Goods. And last year, Jeremy started roasting coffee under the Duchess Coffee Co. label, with all the beans sourced from women-owned farms in Central and South America. This brought in an entirely different crowd of people to the shop, more than a few of them ending up as new poetry enthusiasts.

"I love all the questions," Ruth says, "and how someone can just be taken by a poet they didn't know and how those words become a texture of their lives. What we see is pretty magical."

Visit Antidote Books at 120 Main Street in Putney, and find out more about the store and their readings on instagram at @antidotebooks.